"The relation between what we see and what we know is never settled."

– John Berger
We're pleased and excited to invite you to discover the 2019 edition of your contemporary dance festival: dance: made in canada / fait au canada from August 14 – 18.
We kick off on Wednesday, August 14 with a special Toronto premiere presentation of Louise Lecavalier – In Motion, Raymond St-Jean's feature documentary film about this luminous Montréal artist (who will join us for the screening and a Q&A). Then, over five jam-packed days, we'll present the MAINSTAGE curated series and the lottery-drawn What You See Is What You Get (WYSIWYG) series.
We are also thrilled to bring you our Arts Encounters program which shines a light on our multifaceted dance artists through site-specific interdisciplinary (Susie Burpee & Linnea Swan), hybrid media (Luke Garwood), and literary arts (Lindsay Zier-Vogel), as well as photography (Irvin Chow) and dance on film – it's all ready for your participation.
You've fantasized about it. Come on, I know you have: an existence without limitations in which you can fly, transform into different creatures, occupy multiple places, dimensions, and realities at the same time. An existence where you're liberated from the human foibles – desire, fear, jealousy or greed – that enslave you.
But think how… BORING… that would be. Limitations give life flavour. They can be a source of creativity and of inspiration. They can provoke us to dream big ideas within restricted frameworks and then just let go. As artists, pushing against or respecting limitations is how we shape our work. How each artist manages that equation has led to the vast range of voices, tones, and ideas on stage at this year's festival.
Consider…
The limitation of time: Choreographer DA Hoskins and dancer Danielle Baskerville relive their twenty-year relationship within twenty minutes on the stage.
The limitation of perspective: Karine Ledoyen interviewed over a dozen retired dancers and forged that cacophony into a graceful, wordless duet.
The limitation of freedom: Sashar Zarif wonders if, in walking our path, we are determining or accepting our fate? Does the silence and stillness interrupt the clatter of our destiny, or is clatter the interruption?
The limitation of corporeal architecture: Josh Martin investigates the stored accounts that muscle tissues, bones, tendons, and organs hold, of past events, actions, and trauma.
The limitation of a body in space: Katia-Marie Germain sits down to breakfast and gets caught up in a struggle between the visible and the invisible.
As these artists demonstrate, learning to be creative within the confines of limitations may be the best hope we have, to transform ourselves, and collectively transform the world.
It has been an honour to work alongside two remarkable guest curators, Lina Cruz and Matjash Mrozewski, on crafting this year's festival. Together we have selected and programmed eight brave and curious Mainstage artists. Along with artists from the lottery drawn WYSIWYG series, their works will transform the way you see the world. Because art does have that capacity.
We hope that by experiencing the diverse works in the 2019 festival, you will go back to your life with something that you didn't have before the encounter.
The 2019 programme is an invitation to see and know the world differently.
We hope you enjoy sharing five days of dance made in / fait au canada with us this August.
Festival Director and dance: made in canda/fair au canada Artistic Director Yvonne Ng
with Janelle Rainville and Jeff Morris, Co-Festival Directors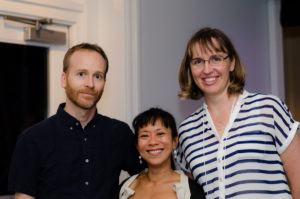 Photo by Irvin Chow