Another Inspiring Festival
Another successful dance: made in canada/fait au canada has come and gone and we want to take this moment to remember. Some of the highlights included….
The beautiful Betty Oliphant Theatre enlivened inside and out. From Film Screenings on the loading dock to the photography of Brianna Lombardo in the front lobby and Anandam's participatory performance Walking Spaces that took place in front of the theatre for festival goers and casual passersby.
Growing audiences!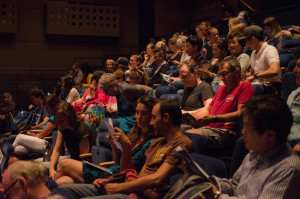 Parties! Below is the opening night reception. We also had a closing party. And a party in between for donors to the festival catered by the wonderful Michael Tong | Sublime Catering. We love parties.
Mingling with artists and audience members. Below MainStage Artist Kate Hilliard between performances.
Artists from across the country including Louise Moyes hailing from Newfoundland; Troy Emery Twigg of Kainai; and Parts+Labour_Danse, Lina Cruz, and Andrew Tay from Montreal. Andrew performed his provocative work pictured below, You can't buy it (But I'll sell it to you anyways) Sucka.
And of course many artists from right here at home including Marie-France Forcier (pictured below with Lina Cruz), Kate Hilliard, and Throwdown Collective (Morrison Series); Jacob Niedwieki (Sinha Series); Susie Burpee, Alysa Pires, and Benjamin Landsberg (WYSIWYG).
Five diverse works from emerging and established artists in the WYSIWYG Program including Parts+Labour_Danse pictured below.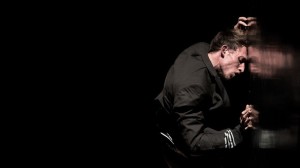 Arts Encounters programming that included the work of chalk artist Maria Asunma and artist Andréa de Keizer who compiled the typical and ideal daily working schedules from festival artists for her Schedule Scores project.
Film screenings on the Dockside were stunning and could be seen from those lucky enough to be dining across the street at the Blake House, our proud festival supporters.
Lucky winners of the Audience Choice Awards, Parts+Labour_Danse and Throwdown Collective (!) won cash prizes along with one return flight on West Jet. Time to go on tour!
And there was more. So, so much more. How could we forget our screening of Danielle Sturk's (Winnipeg) A Good Madness: The Dance of Rachel Brown; Audience Talk Backs; our lovely dance ambassadors connecting with audience members and artists. It's been another whirlwind of art and community and we are so grateful to all who made it happen. To our audience members, donors, artists, staff, crew, performers, supporters, friends, family, volunteers: We are so grateful for the contributions of every single one of you.
An enormous THANK YOU from our team. Let's do it again soon shall we?!