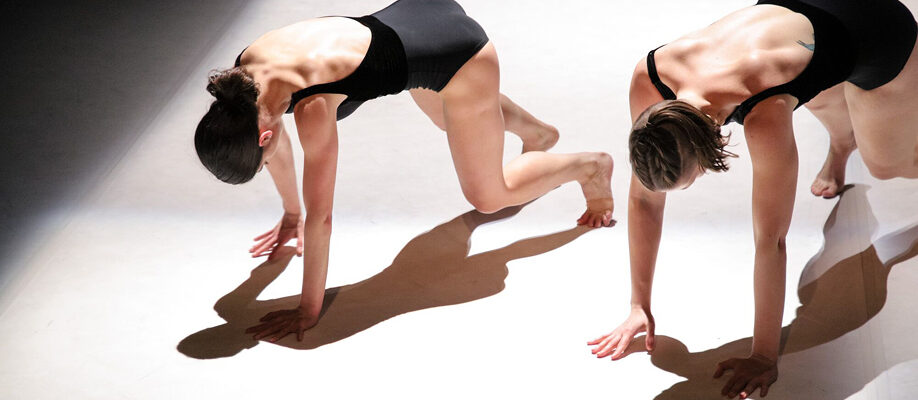 Workshops
Thursday, August 15: Creation Workshop / Challenge Through Games
Artist Workshop run by Karine Ledoyen

Time: 10:00am – 1:00pm
Location: Jean Soper Studio (Studio B) at The Citadel (304 Parliament St., Toronto)
Fee: $10
Who it's for: Everyone (professional or not, anyone interested in creating in motion)
Workshop description: Challenges through games: Experiment and design your own 'games' to start a creative work using the body as a starting point that is consistent with the artistic intentions. The goal of this approach is to instigate new triggers that support a creative work for dancers and choreographers and promote collective creation. The workshop is given by Choreographer Karine Ledoyen.
What participants need to bring: notebook, writing tool, headphones, phone with music (if possible), 10 objects of their own choice.
Friday, August 16: Contemporary class with Jolene Bailie
Artist Workshop run by Jolene Bailie

Time: 10:00am – 11:30am
Location: Canadian Contemporary Dance Theatre – Studio A (509 Parliament Street, Toronto)
Fee: $10
Who it's for: Professional level dancers and advanced movers
Workshop description: Contemporary technique class with a floor warm-up inspired by 23 years of experience in Bartenieff Fundamentals as taught by Bill Evans. The class also includes progressions, technical settings, and phrasing across the floor to create a full body exploration of integrated movement. Jolene has been teaching professional level class ongoing in Winnipeg since 2004. She is a faculty member at Canada's Royal Winnipeg Ballet School, Professional Division (2001-2002, 2013-present), and The School of Contemporary Dancers (1997-present). Jolene is the Founding Artistic Director of Gearshifting Performance Works and the new Artistic Director of Winnipeg's Contemporary Dancers.
Workshop Capacity: 25 participants
Saturday, August 17th: Wikipedia Dance Project
Artist/Workshop run by Kathleen Smith, Philip Szporer, & Wikipedia facilitator – Zeesy Powers
Time: 12:00pm – 3:00pm
Location: Resource Centre at Canada's National Ballet School
Fee: FREE
Who it's for: Anyone who wants to help improve the profile of Canadian dance artists on Wikipedia
Workshop Description: Dance+Words presents a session of the Wikipedia Dance Project on Saturday, August 17, noon-3pm, in the Resource Centre at Canada's National Ballet School, 400 Jarvis Street. Dance+Words is an initiative created by writer-filmmakers Philip Szporer and Kathleen Smith to disseminate ideas and facilitate conversations around dance and movement arts across Canada. With the support of the Canada Council for the Arts, Dance+Words is bringing the Wikipedia Dance Project to cities across the country. Facilitated by artist and Wikipedia editor Zeesy Powers, the event at dance: made on/fait au canada consists of a tutorial on editing Wikipedia for Canadian dance artist content, followed by a supported edit-a-thon. This is a free event with refreshments provided. Care to join us on a collective writing adventure to improve the profile of Canadian dance artists on Wikipedia? Drop us a line at wikipedia@dancepluswords.ca to make suggestions on who needs an entry and what needs improvement.
What participants need to bring: Computer and power cable (not mandatory).
All workshops are by registration only.

CLICK HERE to register for a workshop.
Photo by Leif Norman