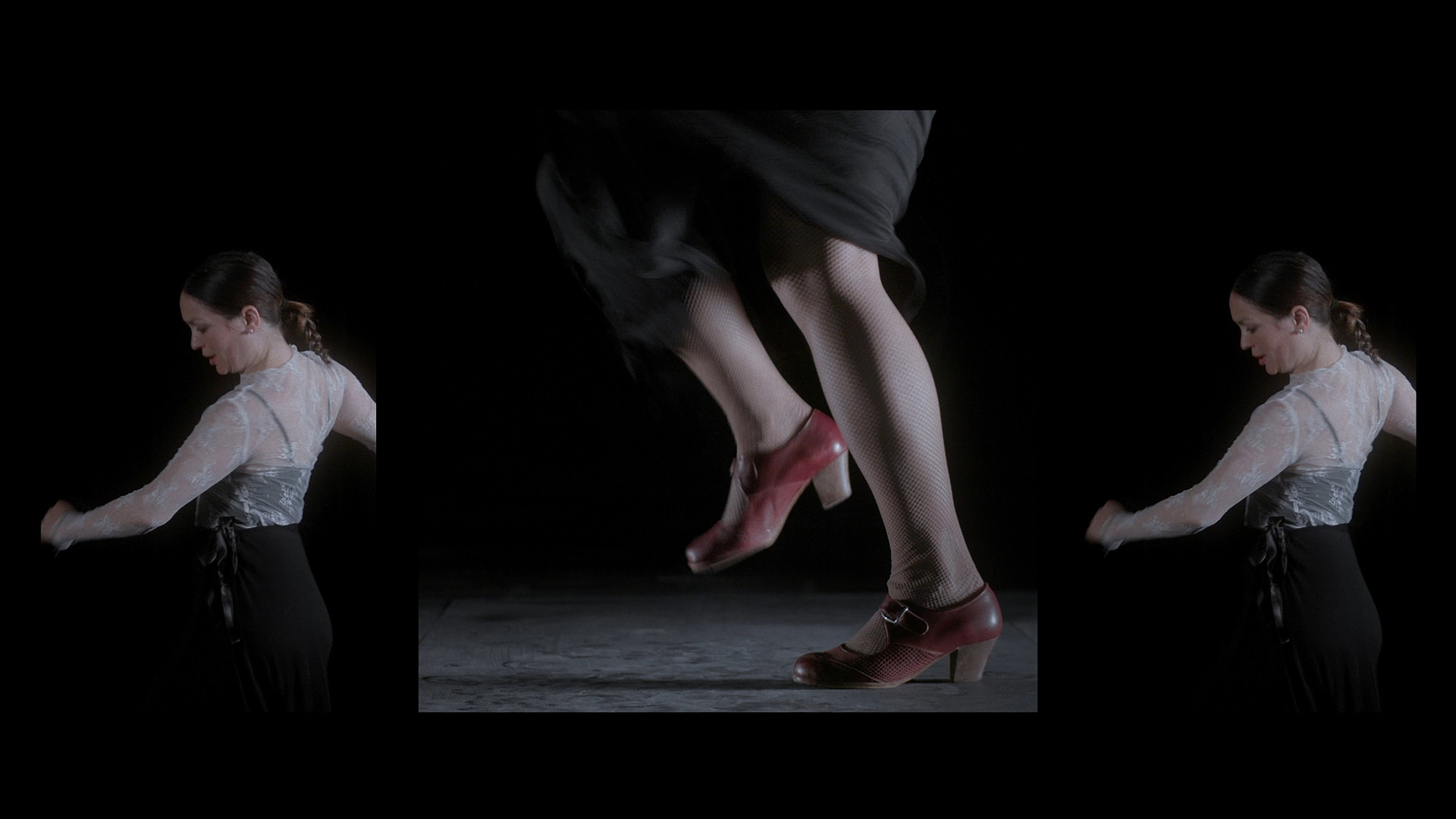 Intimacy, sheer physical presence, liveliness, even the smallest registers of motion, evolve in this triptych. Transcendence and transformation, and the sustained power and complexity in the manifestation of emotions, serve to delineate the heightening interactive dialogue between the flamenco performers, their individual expressions, and stimulating the senses and the imagination of the viewer.
The intimacy created by the camera in this film depicts the sheer physical presence and liveliness, even the smallest registers of motion, of the flamenco dance artist Aurélie Brunelle, singer Álvaro Echánove, and guitarist Dominique Soulard. The portraits, evolving in a triptych, chart transcendence and transformation, and in particular the sustained power and complexity in the manifestation of emotions. The videos serve to delineate the heightening sense of communication between the performers, potentiating not only on the specificity of their individual expressions––whether in sound or in movement––but highlighting the deeply interactive dialogue between the performers, and stimulating the senses and the imagination of the viewer.
Blurb: This study draws us into a state of presence expanding our private worlds of imagination, dreams and memories where we get to perceive movement and performance in a more visceral, experiential way.
Director Biography – Philip Szporer
Philip Szporer is a Montreal-based filmmaker, writer, and lecturer. He has been immersed in the Canadian dance world for the past 35 years. Currently, he teaches in the Contemporary Dance department, the Faculty of Fine Arts, and the Loyola College for Diversity and Sustainability, all at Concordia University. He served as a Scholar-in-Residence at the Jacob's Pillow Dance Festival in Massachusetts (2000-2016). In 1999, he was awarded a Pew Fellowship (National Dance/Media Project), at the University of California, Los Angeles. And in 2010 he was the recipient of the Jacqueline Lemieux Prize awarded by the Canada Council of the Arts. He was recognized with a Distinguished Teaching Award from Concordia University's Faculty of Fine Arts in Spring 2016.
In 2001, Philip, along with Marlene Millar, co-founded the Montréal-based award-winning media arts production company, Mouvement Perpétuel. Together they have co-directed and co-produced many documentaries and short dance films to great acclaim. Their work is seen widely at festivals worldwide and at major events such as the 2010 Olympic and Paralympic Winter Games, the 2010 Shanghai Expo, and a UNESCO tour of Latin America.
Mouvement Perpétuel's mandate is to explore the endless possibilities of dance on film, sharing the stories of exceptional artists.
Projects exploring new technologies include "Lost Action: Trace", a stereoscopic (3D) live action/animated film with choreographer Crystal Pite, animator Theodore Ushev and produced by the National Film Board of Canada, and "Leaning On A Horse Asking For Directions", an interdisciplinary investigation into visual perception and kinesthetic empathy involving multi-channel stereoscopic 3D (S3D) environment for exhibition, and bridging BaGuaZhang martial arts and contemporary dance choreography. New platform productions include "1001 Lights", for gallery/museum installation and "CRU", a three-part street dance web series for La Fabrique culturelle (Télé-Québec). "Bhairava", a 14-minute site-specific dance-for-camera film, shot in India, featuring dancer and choreographer Shantala Shivalingappa, has received major acclaim.
Philip has also created "Inquiry Into Time and Perception, Study #1", two short video portraits for wall-sized projection installations which act as "windows" opening onto the passions and the ambiguities of physical and emotional manifestation. These studies, created by Mariko Tanabe, draw on a deep vitality, and intrinsic qualities address the senses and imagination.
Philip also served as artistic advisor for interactive exhibits and installations, including the "Corps rebelles/Rebel Bodies" exhibition at the Musée de civilisation in Québec City, and the "Toile Mémoire" interactive map project created by the Regroupement québecois de danse (RQD).
Audience engagement to further literacy around the discipline of dance and dance-film has taken him around the globe. Philip has guided dance-film workshops in Finland, Portugal, the United States, Israel, and Mexico. He has also worked as a choreographic facilitator in Montreal, the United Kingdom, Germany, and the United States. Mentoring emerging artists in research and dialogue remains an important part of his evolution. He has also given writing workshops and has lectured widely across Canada, the United States, Mexico, and Europe.
In 2018, he co-founded Dance+Words, with Kathleen Smith, an initiative to disseminate ideas and facilitate conversations around dance and movement arts across Canada.
Philip's activities as a broadcast journalist have included stints at CBC Radio, Radio-Canada's radio arts magazine "Aux arts, etc.", and as correspondent for "The World" (BBC/WGBH-Boston). His dance writings have been published in The Dance Current, Tanz, and Dance Magazine, among others. Further publications include scholarly essays and chapters in Motion Pictures: Dance's Duet with the Camera (Palgrave Macmillan), Envisioning Dance on Film and Video (Routledge), and the Oxford Handbook on Jewishness and Dance in Contemporary Perspective (Oxford University Press).
Director Statement:
"One of the major discussions with my collaborators on this project has been about the art of presence. What makes one performer so captivating to watch on stage, that we are compelled to watch only them. Why do we follow their journey, riveted, while the rest seems to disappear from our foreground? Through them, we are drawn into a state of presence that expands not only the worlds that they are portraying but takes us into our own private worlds of imagination, hopes, dreams and memories where we get to perceive things in a more visceral, experiential way, and are affected by it."
Credits:
Philip Szporer Director
Philip Szporer Producer
Aurélie Brunelle Key Cast
Alvaro Echánove Key Cast
Dominique Soulard Key Cast
Michael Wees Director of Photography
Aurélie Brunelle Choreographer
Siam Obregón Editor
Devon Bate Sound Design
Peter Hostak Additional Camera
Michael Wees Production Design
Devon Bate Sound Recordist
Marlene Millar Supervising Editor
Tony Manolakis – Rev13Films Online Editor -Colourist
Run Time: 11:17