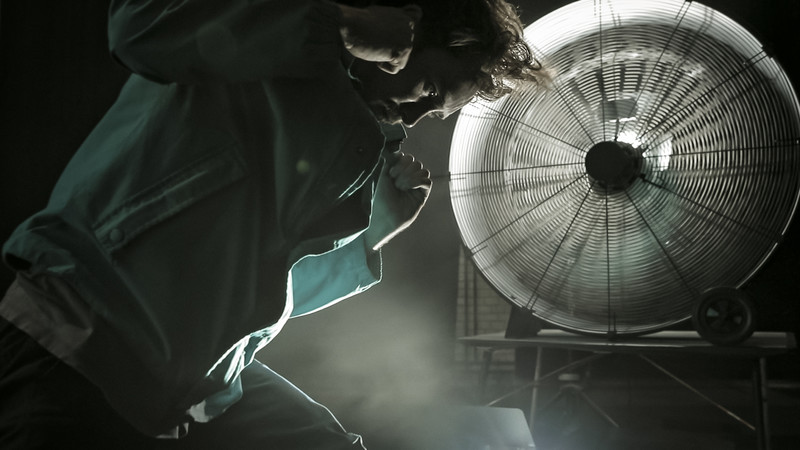 takeoff is a short film adaptation of a dance solo by Canadian performing artist Lukas Malkowski. It was made in collaboration with Blunt Chunks, a Toronto-based sound artist.
takeoff is a short film about action, consequence, ambition, and circumstance.
How do we move when we are faced with unstoppable forces? This film originally stemmed from Lukas Malkowski's solo: 'Unresisting Force', presented at Citadel + Compagnie's NIGHTSHIFT festival (2019). Filmed by Jubal Battisti, the work features an original score by Blunt Chunks (Caitlin Woelfle-O'Brien), and lighting design by Chris Malkowski.
Artists:
Lukas Malkowski is a CODA (Child of Deaf Adult), Dance Artist, choreographer and Aquarius from Toronto, currently based in Berlin. Since attaining his BFA in Dance Performance at Toronto Metropolitan University, he has performed in Babylon Berlin, a hollywood feature film (TBA), FestivalTransAmerique (Montreal), Holland Dance Festival, and Cervantino Festival (Mexico). Lukas's choreography is shaped by embodiment, physics, and languages. He has choreographed live performances and music videos for musicians LBT, Sam Slater, and The 7th Plain. His teaching practice is driven by social dialogue and physics embodiment using sight and touch. He has taught in Toronto, Berlin, and Mexico City. IG: @mal_kowski
Jubal Battisti is a Berlin-based, US-born photographer and performer. He is a graduate of The Juilliard School and the New York Institute of Photography. Jubal danced with Cedar Lake Contemporary Ballet in NYC for eight years, touring across the US and Europe. He joined the GöteborgsOperans Danskompani in Sweden in 2012. Since moving to Berlin in 2014, Jubal has freelanced as a performer and photographer, collaborating to make still and moving imagery for dance makers Moritz Ostruschniak, Sebastian Mattias, Josep Caballero García, Marquet Lee, Martin Hansen, Sergio Matis and Roderick George. He has also created marketing imagery for companies such as Skånes Dansteater, the Dance On Ensemble, Kollektiv 52°07, and Staatsballett Berlin.
Chris Malkowski is a professional lighting designer based in Toronto and designs lights for dance, drama, opera, musical theatre, and live events. Recent productions include: Portia's Julius Caesar (UofT Hart House Theatre), Pass Over (Obsidian Theatre), Black Drum (Deaf Cultural Centre / Soulpepper 2019) Beside Myself, Hilda's Yard and The Writer (Foster Festival 2019) The Last 15 Seconds (Associate Design, Journées Théâtrales De Carthage 2018), Middletown (Associate Design, Crows Theatre 2018) Renovations for Six, Come Down From Up River (Theatre New Brunswick, Foster Festival 2018), TDSB Creates Showcase 2018 (TDSB Creates 2018), In The Continuum (Black Ink Collective 2017) Antigone, Pantalone's Palace (Brock Dramatic Arts) Director's Project (Shaw Festival 16/17) Lunenburg, Screwball Comedy (Foster Festival 2017) Permanence (Libby Brodie Productions 2017). Chris has also assisted notable Canadian Lighting Designers such as Kevin Lamotte, Bonnie Beecher, and Kim Purtell as well as working with respected companies such as The Shaw Festival, Canadian Opera Company, Opera Atelier, and Soulpepper. Chris has also been nominated for Best Lighting Design for the 2011 Toronto Broadway World Awards. Chris is an Associate Member for the Associated Designers of Canada.
Blunt Chunks is the Toronto-based, solo music project of Caitlin Woelfle-O'Brien, formed in 2011 after studying Contemporary Dance at Concordia University in Montreal. Combining pop sensibility, soulful singing, minimal instrumentals, ambient tones and vocal layering, her songs have been described as: music to keep close to your heart, hypnotic, honest, vulnerable, swirling around you like a settling mist. Blunt Chunks has performed in Toronto and surrounding cities countless times, supporting acts like Lido Pimienta, Nick Hakim, Charlotte Day Wilson, Ivy Mairi, Jaunt and Julianna Barwick. Over the years, Blunt Chunks has participated largely in DIY shows, mix-tapes, collaborations and singing backup for other bands. Her fluidity and willingness to jump at the chance to perform has built her a solid reputation of professionalism. Caitlin is currently working on an EP to be released before 2021.
Production Credits:
Lukas Malkowski Key Cast
Blunt Chunks Sound
Jubal Battisti Director of Photography
Run Time: 6:56