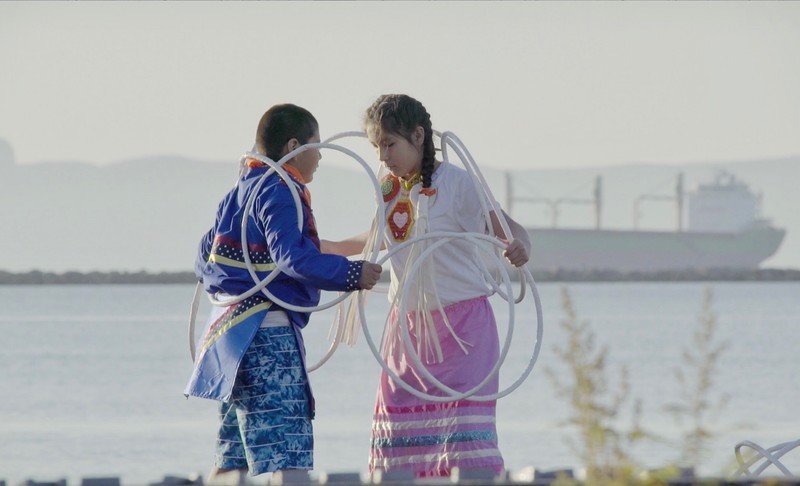 "Woodlands Groove" is part of a series of six choreographic works called the Undercurrents Project that were devised as a community-based project to celebrate the 50th Anniversary of Thunder Bay.  It features two young Hoop Dancers from Naicatchewenin First Nation, a brother and sister duo that have been dancing together since they were very young. They come from a family of hoop dancers passed down to them by their Grandfather and father before them. Hoop dancing is a form of storytelling and the sharing of a view into the spiritual life of the Anishinaabe. Through their dancing they keep their stories, history and legends alive. "I share the ownership in direction with the wonderful group of artists I assembled for Woodlands Groove. I looked to the Indigenous creators involved in the film for guidance and direction. I specifically want to acknowledge the enormous contribution of Victoria Anderson-Gardner, David Wilkinson-Simard and Orville Councillor." – Donna Marie Baratta
Opening Prayer
By Orville Councillor
I only speak a little language, forgive me.
I will speak the original language.
The Sound of Thunder Coming From afar, is my name.
Muskrat is my family clan. I am from the Ojibway Territory – Where two bodies of water that swirl.
Thank You Creator for the good day. East, West, South, North, Mother Earth I love you and the Heavens
I offer you tobacco…
Let everything good happen, The biggest Thank you, I feel good and happy.
I feel goodness, I express goodness for this song,
Thank You
Bangii itigo niin taa anishinaabe
Niiwii go chii toonjiibashinaabewaan
Piitwewitong Niindizhinikaaz, waazhashk
Niin dotem ojiwe aakiin indoonjii
Nacaitchwenin indoojii
Chi-miigwech Gizhe Manido, mino giizhigo
Wabanong, zhaawanong, ningaabianong, kiiwedanong
Nimaamaaaki giizaage ayaan
Benesiwag odaapinaan asemaa
Giibiiten adaagozin maano kinigego
Daminose magat chii miigwech giizagiyan
Niiminoagaa ninminwendam
Ninjiikendam nagamoyaan owe nagamon
mii gwech nugamon
Artists:
Donna Marie Baratta, Orville Councillor of Thunder Bay First Nations Dance Group, Saagatay Councillor , Kinew Councillor, Joshua "Classic Roots" DePerry, Classic Roots , Jean-Paul De Roover, Victoria Anderson-Gardner, Kyle Curran, Shae Watson