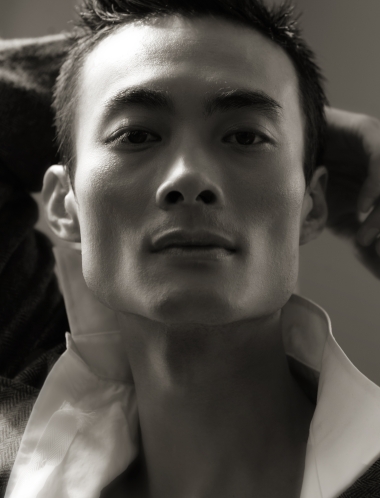 Interview with William Yong
Photo by: David Hou
Tell us about yourself, location and company.
My name is William Yong. I moved to Toronto in 1999. Now I am a proud Canadian and currently the artistic director and choreographer of Zata Omm Dance Projects.
What is your dance background?  What drew you to it?
I was more of an athlete when I was a youth. I ran track and field and I played volleyball, badminton and field hockey. I did not have any dance training nor any opportunity to watch any dance performance until I was 18 years old. That was when I was told by a stranger (an angel perhaps) that I should audition for the  dance academy because she thought I had the height and body to be a good dancer. I went along because my 'O' Level examination results (British educational system) were not really good enough to get me into 'A' level study.
Describe your approach to movement and your creative process. What is your favourite part of your approach?
Creativity is most fertile in new fields of study. I always love to explore and research new avenues to create dance. I continue to search for new elements and philosophies and find their relationship with dance. I often choose complex and difficult subject matter that is very challenging for my collaborators and myself to distil into dance, but that ultimately leads to an edifying experience for me and my audience. I like to search for the root and essence of those complex ideas and turn them into something to which we can relate, yet remain profound.
Is there a Canadian artist/organization who has really had an impact on your artistic development and career?
After I worked with Matthew Bourne and Wayne McGregor in U.K, I moved to Canada and worked with many companies and independent choreographers including five seasons with Toronto Dance Theatre and a ten-year work span with CORPUS, Fila 13, Theatre Rusticle, Red Snow Collectives, Chimera Project, Matjash Mrozewski, Kathleen Rea, Michelle Silagy, Tara Blue and many others. I believe I have learned very much indeed from every single one of them and they shaped the artist that I became.
Define yourself as an artist.
My creativity is rooted in a time growing up in a family with very limited means. I was a boy who created my own alternative toys and games to entertain my child relatives and myself. Using imagination and creativity became an integral part of my life to dream. I am left with innate curiosity and creative drive. Now, in dance, I am inspired by new and alternative ways of seeing and creating. I feel an artistic compulsion to create dance and to modify perceptions.
What was it that attracted you to being involved with d:mic/fac?
I attended d:mic/fac every year and I performed in Lina Cruz's 'Soupe de Jour' last year in the festival. I was very impressed with the festival from programming to presentations. I thought it would be the perfect platform to present a 25-min version of my new work Steer that is a very technologically compelling work.
What advice do you have for aspiring dance artists and choreographers?
Travel and see the world. Get out of your comfort zone. Let your life philosophies and experiences influence your arts-making choices. Be educated by watching high-quality live performance or be mentored by someone that inspires you.
Briefly tell us about your newest projects. What can we expect from your performance at d:mic/fac 2013?
I am currently working on multiple projects including Theatre Rustical's Dinner at Seven-Thirty, Red Snow Collectives' Monkey Queen and Zata Omm's vox:lumen. But my new solo Steer for d:mic/fac will be the earliest project to be performed.
Steer exposes imaginary inner worlds through a fusion of biology and technology and the interplay of sound and light driven by movement. The piece is an expression of my internal and external worlds;  how I steer my focus and strength from inward to outward and vice versa. I look at identity and the incarnation of my will-power through the speed and dynamic of my own motion. It is an exploration that articulates this power in one's mind. It is as though I could bridge to a dreamlike state and manifest it into reality via technology, image, sound and movement.
My movements are processed through three frameworks of technology: real time motion capture, infrared light and camera, and accelerometer motion sensors. The inputs from these sensors are interpreted in real-time by computer software, sound technician and visual artist to produce interactive lighting, sounds and visuals that are both initiated by and and generated by my movements. This piece will be a very technologically complex piece to be realized on the MainStage of d:mic/fac this August.
***
William Yong will be presenting his world premiere "Steer" at this year's d: mic/fac as part of the Bennathan Series Wednesday, August 14 at 7pm, Thursday, August 15 at 9pm and Saturday, August 17 at 8pm. Steer takes us to imaginary inner worlds through a fusion of biology and technology. The interplay of sound, visuals and light drives our movements while internal and external sensors offer a bridge to a dreamlike state that manifests hidden worlds of thought into reality.