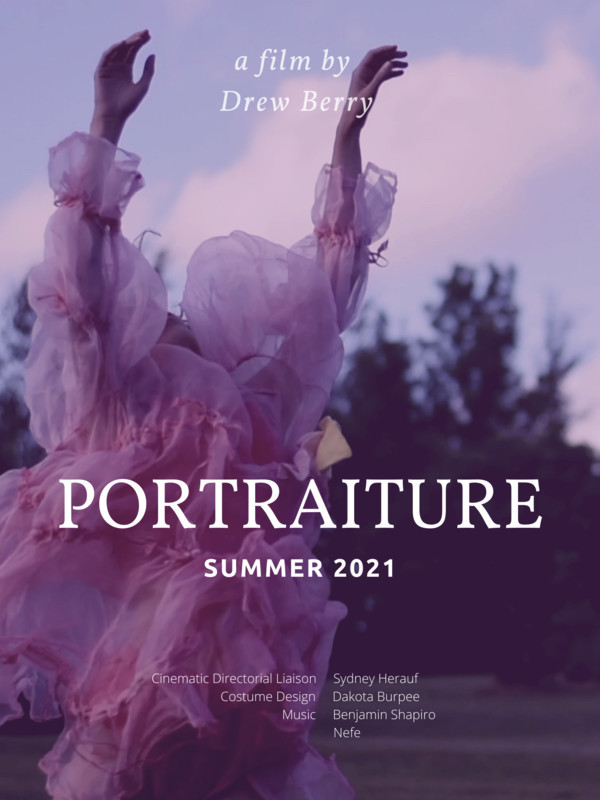 Portraiture is a cinematic manifestation of a personal journal. In an attempt to accurately capture the emotional and environmental shifts that I have grown to admire in my home town of Guelph, I translated seasonal journal entries into site-specific improvised movement portraits. I have carefully sifted through meticulously framed shots, mining their contents for moments that most genuinely depict impulse, isolation and reflection. While passing through Canada's four distinct seasons, the viewer will expect to be carried by the original sound design, bold costuming, and movement expression that tenderly documents my personal journey throughout this year. Portraiture invites audiences to reflect on our constantly changing surroundings as they are given a glimpse into my personal world. The film encourages audiences to find a gentle sense of admiration for the inevitability of change. My belief is that these natural changes have more to teach us than we may realize.
Drew Berry is a Toronto-based multidisciplinary artist and teacher. Her mediums include dance, theatre, photography, videography, and classical piano. As a photographer/ videographer Drew works with Kaeja d'Dance, Kaya Usher, Fall For Dance North, Canadian Contemporary Dance Theatre, Toronto Metropolitan University, and Human Body Expression to name a few. Drew was an artist in residence for the 2020/21 season at Guelph Dance where she created a short film, Portraiture. The film premiered at the 2021 Guelph Dance Festival and was featured at Hillside Homeside as well as Dance Made in Canada where it received the Moving Pictures Award. As a performer, Drew works with multiple companies and independent artists in Toronto. Most notably, Drew is a company member with Rock Bottom Movement. Their most recent stage work, hollow mountain, was awarded two Dora Mavor Moore awards for Outstanding Production and Outstanding Performance by an Ensemble.
Other collaborators include: Emma Kerson, Brodie Stevenson, Jaberi Dance Theatre, Portal Dance, Irma Villafuerte, Kate Hilliard, Alias Dance Project, and Kaeja d'Dance. Drew is a graduate from Quinte Ballet School of Canada's post-graduate program and holds her BFA (Honours) from the Performance Dance program at Toronto Metropolitan University.
Creative Team
Director / Performance / Camera / Edit: Drew Berry
Cinematic Directorial Liaison: Pony Nicole Herauf 
Costume Designer: Dakota Burpee
Music: Benjamin Shapiro & Nefe 
Mentor / Dramaturg: Karen Kaeja 
Outside Eyes: Matthew Badoe & Lynette Segal
Production Assistant: Taylor Forbes 
Special Thanks: Guelph Dance, Creative Team, Catrina von Radecki, Linda Hunter, Brian Berry, Hayley Berry, Amie-Blaire Chartier, Miyeko Ferguson, Taylor Forbes, Mela Lee Burgess, Alyssa Martin, Natasha Poon Woo, Kween, Georgia Simms, Kaeja d'Dance & Dan Charlebois.
Run Time: 11:00