Curator's Note: Santee Smith Tekaronhiáhkhwa
Nia:wen Yvonne Ng for inviting me to be a 2021 guest curator for dance: made in canada/fait au canada (d:mic/fac). It was an honour to be a part of the curation process in summer 2020, it felt urgent yet unpredictable as the pandemic was raging and impacting our dance community. Little did we know witnessing dance videos online would quickly become how we maneuvered through lock downs.
For my curation, I let each of the submissions wash over me and made my decisions based on what resonated and intrigued me as a fellow creative. The threads that wove into each of my artist selections were feminine centered storytelling, reaching in and back to the primordial, internal transformations with intense and symbolic physical language. In all three we see, feel, and experience the striving for working these threads, a movement created for the need to share stories.
In Liliona Quarmyne's "Resonances of a Warrior Boy, we witness "the idea of the body as a story." A solo journey which is multi-layered, calls on ancestral remembrance moved into a performance realm, activation of space/time in a transformational way, and the creation of symbolic architecture.
In Alexis Fletcher's Altar'd performance, we travel in the journey with her into the inner landscapes. Altar'd delves into the archetypical, psychic spaces which are intensified by the use of design, light and shadows.
Meghann Michalsky's ReAWaken performance resonates with the primordial, ancient feminine. The strength of the trio work is captivating, especially with the choreographic language that is developed based on the rawness of new volcanic earth and the form of women. ReAWaken resonates with me on another level in the Onkwehon:we understand that " we are made of earth".
I'm thrilled the recovery back to live performance is well on its way. Moving the presentation from 2021 to 2023, Yvonne Ng graciously honoured the work of the artists and the curation process. For that we are grateful…please enjoy the dance.
Join us for a post-show chat
Sun. Aug. 20, 5:00 pm
With Alexis Fletcher, Meghann Michalsky, Liliona Quarmyne
Moderated by Mimi Beck
Mimi Beck has dedicated her career to advancing and promoting dance in all forms – as Dance Curator for the DanceWorks series in Toronto, presenting artists with multiple approaches to dance making; and as Executive Director the Canadian Network of Dance Presenters, CanDance, strengthening the dance milieu through commissioning, advocacy and research. Beck enjoys her roles as mentor, consultant and facilitator, and is thrilled to be inducted into the Dance Collection Danse Hall of Fame, recipient of the 2023 William J.S. Boyle Dance Luminary Award. She was named "One of 19 who made a difference in the arts" by William Littler in The Toronto Star, and received a Dance Ontario Award (2007) and a Harold Award (2006). From 1990 – 1994, Beck was Canadian director of a bi-lateral touring exchange with Dance Theatre Workshop (NY) and the U.S. National Performance Network. An active choreographer and performer in Toronto's independent dance movement in the late 1970s and early 1980s, she received the first Canada Council grant awarded to a dance curator for professional development.
Resonances of a Warrior Boy
In the dialogue between past and present, what stories reside within? What do we discover when then and there interact with now and here? How do we navigate the space that holds both ancestral story and body, and the body and story of here, in this time, on this land? Resonances of a Warrior Boy is an exploration of ancestral memory … a circular pause in the line between past and future … a liminal space of provocation.
"Much of Quarmyne's work is concerned with personal storytelling, and her performances often serve as manifestations of a journey through the process of uncovering and telling those stories."
– Michael Lake, The Dance Current
Choreography / Performer: Liliona Quarmyne
Music: The Master Drummers of Dagbon, Chiwoniso, Jamie Llewellyn
Photographers: Kevin MacCormack, Enoch Nsoh (Apag Studios), Hassan Dehadaran Javid
Based in Kjipuktuk (Halifax), on the unceded and unsurrendered land of the Mi'kmaq people, Liliona is a dancer, choreographer, actor, singer, and facilitator. From Ghana and the Philippines, she has an eclectic background that has taken her through many performance styles on four different continents. She performs widely, creates original works as an independent artist, facilitates community programming, and is the Artistic Director of Kinetic. The scope of Liliona's artistic work is broad, but is particularly focused on the relationship between art and social justice, on the body's ability to carry ancestral memory, and on the role the performing arts can play in creating change. Liliona loves to work in collaboration and community, and is mom to two wonderful kids.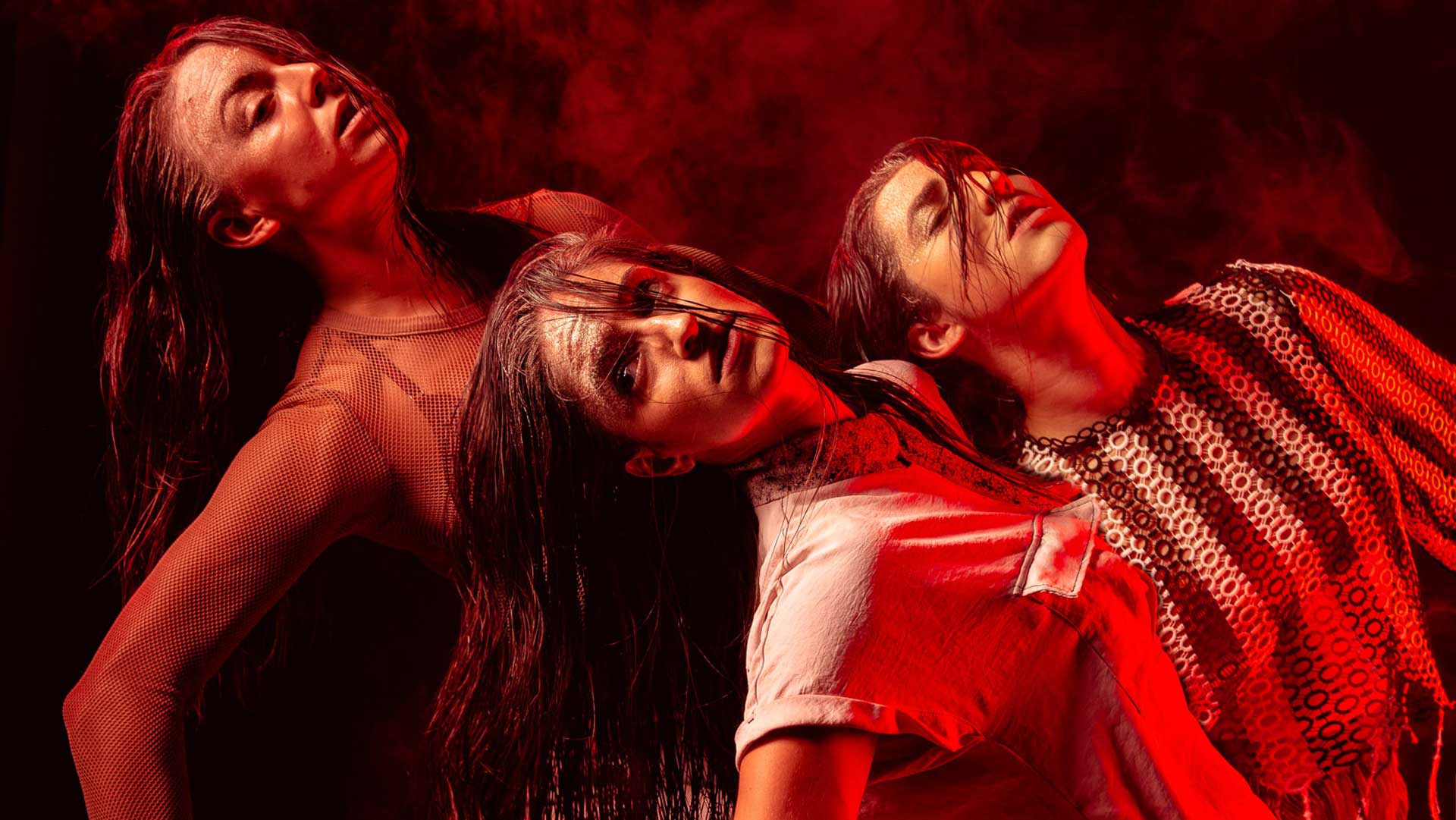 ReAWaken takes place in an apocalyptic universe, where everything has been destroyed and the dancers awaken from a solid-state. ReAWaken draws inspiration from one of the most devastating forces on earth, a volcanic eruption through the power of a female body. Throughout the work, we examine the body through a state of nature, not tamed or domesticated.
ReAWaken simmers intensely beneath the earth's skin, always volatile, always on the verge of breaking through.
It's a highly visceral work with intense muscularity. It integrates and combines my knowledge in Contemporary dance and Krump movement principles into one work. The dancers are required to tremor, freeze, brew, explode and be liquid at various times throughout the piece.
"…Michalsky are boldly venturing to make waves in the prairie region with a passion for seeing contemporary dance thrive in Calgary."
– Tynan Allan, Daily Hive
Choreographer: Meghann Michalsky
Performers: Katherine Semchuk & Daria Mikhaylyuk
Costume Designer: Myah Van Horn & Angela Dale
Photographer: Tim Nguyen
Meghann Michalsky is a dance artist working in Alberta. She is the co-creator of Project InTandem and YYC Contemporary Technique Training, two programs that offer opportunities to emerging artists in Canada. She was awarded the 2019 RBC Emerging Artist Award – she is the first Dancer/Choreographer in Alberta to receive this award.
Since completing her BA in Contemporary Dance, with a concentration in Choreography and Performance, at the University of Calgary. She has rigorously pursued her training in Canada, Europe, and Israel. As a dancer, you've seen her dance for an array of individual artists and companies, including Karissa Barry, Laja Feild of LajaMartin, Davida Monk, Linnea Swan, kloetzel&co, & Dancers' Studio West to name a few.
Altar'd is a solo piece which explores the truth many of us have experienced – that times of fear and difficulty, often in the form of an unexpected life event, can trigger a period of intense introspection, spiritual development, and personal growth. Inspired by writings from St. John of the Cross, Altar'd is set to an evocative score by the Icelandic group Sigur Ros as well as theatrical stage and visual design, and projected film created by Sylvain Senez.
"…you can feel her feel, right out to the tips of her gracefully extended fingers—and as a soloist she has no challenges holding the stage."
– Janet Smith | Stir Magazine
Choreographer / Performer: Alexis Fletcher
Text: St. John of the Cross
Scenic and Film Design: Sylvain Senez
Lighting Designers: James Proudfoot, Victoria Bell
Rehearsal Director: Jill Henis
Photographers: Sylvian Senez, Jon McRae
A dance artist, creator, and producer, I was a principal artist with Ballet BC for 14 years, toured internationally, and subsequently have been a guest artist and Artist in Residence. Now independent and working in collaboration with my husband and creative partner, Sylvain Senez, I am Artist in Residence at Vancouver's Chutzpah! Festival. I have been supported by Presentation House, Dancing on the Edge, InFrinGing Festival, New Works, BC Arts Council, Canada Council, Dance Victoria, and EDAM among others.
As producers, Sylvain and I create and curate an annual, outdoor, site-specific performance space and series called The Dance Deck.
Independently I have worked with Sidra Bell, James Gnam, Simone Orlando, Rob Kitsos, Wen Wei Wang, Vanessa Goodman, Ne. Sans Opera and Dance, Dance//Novella and zoe|juniper.
Banner photo by Tim Nguyen