Desnoyers Series
Curated by Danièle Desnoyers
Friday, August 18, 7:00 pm
Saturday, August 19, 9:00 pm
Sunday, August 20, 4:00 pm
Post-Show Chat
Friday, August 18, 8:00 pm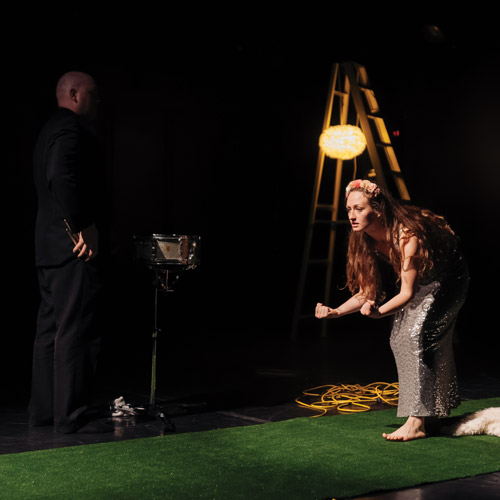 The Eventual DeExpression of RGS2
Compagnie ODD/Yvonne Coutts (Ottawa, Ontario)
Toronto premiere
The Eventual De-Expression of RGS2 reflects on the nature of gene expression and environmental influences. The duet integrates images imprinted from the psyche. A lone female dancer walks an uncertain path while being provoked by a musician. Trust and balance surface.
Choreographer: Yvonne Coutts
Performer: Kay Kenney
Composer/Musician: Jesse Stewart
Yvonne Coutts' work has been presented and commissioned in Canada by the Brian Webb Dance Company, the Winnipeg Dance Festival, Tangente, Danceworks, Women in View, Dancemakers, Arraymusic, Four Chambers, and Winnipeg Contemporary Dancers.
Recipient of the 1994 Bonnie Bird Choreographic Award from the Laban Center in England, she received a commission, which toured through Europe, the United States, and Asia. In 1994, she also received an invitation from The Place in London to attend a dance/video forum and her solo work, Now. In Blue, commissioned by the Canada Dance Festival (CDF) and the CanDance Network, went on to a successful Canadian tour.
Her site-specific solo work, Perfect Nowhere, premiered at the 2002 CDF. In 2006, Yvonne received a second commission from the CDF to create a solo work for Natasha Bakht.
Yvonne was a company member of Le Groupe Dance Lab from 1988 to 1994 where she interpreted, choreographed, and worked with artists such as Paul-André Fortier, Sylvain Émard, Louis Bédard, Russel Maliphant, Wayne McGregor, Harold Rhéaume, Noam Gagnon, Claudia Moore, Carol Anderson, and Tedd Robinson. She became Artistic Associate at the Lab from 2003 to 2006. Yvonne danced independently with Sylvie Desrosiers and Helene Blackburn's Cas Public. Yvonne has been nominated three times for the K.M. Hunter Artists Award through the Ontario Arts Council. She has been on faculty of The School of Dance since 2000, a sessional instructor at the University of Calgary, and guest artist at Grant MacEwan College, The School of Contemporary Dancers, and LADMMI. Since September 2010, Yvonne has been the Artistic Director of Ottawa Dance Directive /Centre de danse contemporaine (ODD) where she has choreographed six new works for Compagnie ODD. She was the 2015 recipient of the Ottawa Arts Council Mid-Career Artist Award.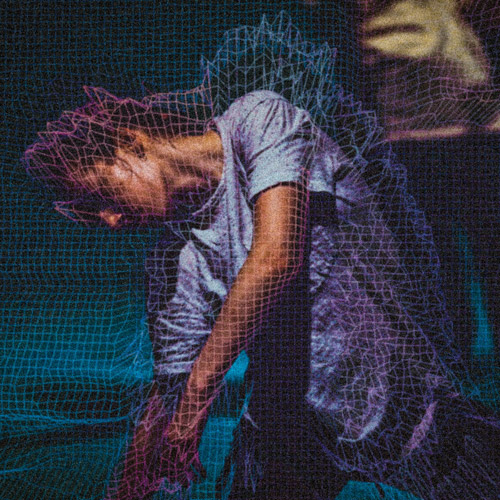 the way we are 
Alias Dance Project (Toronto, Ontario)
World premiere
Searching for the change, when was the beginning of the end. We connected, disconnected, went back, up, down, and now we are stuck somewhere between where we are going and where we are coming from.  What we know is that we are here and you are there, and we are all here at the end, together now.
Choreographers: Lauren Cook and Troy Feldman
Composer: Nigel Edwards
Lighting Designer: Gabriel Cropley
the way we are is co-choreographed by Lauren Cook and Troy Feldman.
Lauren Cook is the Artistic Director of Alias Dance Project (founded in 2007), a choreographer, teacher, performer, and owner of The Cornerstone Studio. Lauren has been working diligently to make sustainable opportunities in dance for herself, her company and her community. She has self-produced several theatre and site-specific productions, and has showcased her work across Canada. Lauren has performed in work by many notable choreographers: Emanuel Jouthe, Julia Sasso, Kathleen Rea, Heidi Strauss, David Earle, Darryl Tracey, Apolonia Velasquez, Ofilio Portillo, Allen Kaeja, Troy Feldman, Susie Burpee, Valerie Calam, Emmanuelle Le Phan and more. Lauren is currently part-time faculty at Ryerson University, and an Artistic Mentor and Artist in Residence for the TDSB, and works to facilitate opportunities for professional and pre-professional artists to train in alternative contemporary techniques with national and international artists.
Troy Feldman is a Toronto based actor, dancer, parkour artist, acrobat and stuntman. Troy launched his professional career in the Dora Award winning production, Lord of the Rings (Mirvish Productions). His theatre credits include: The Forbidden Phoenix (Citadel Theatre/LKTYP), A Soldier's Tale (Theatre Aquarius), Jesus Christ Superstar (Tivoli Theatre),The Walrus and the Carpenter (Rose Hill Theatre), and The Heart of Robin Hood (Mirvish Productions). Film/TV Credits include: White Collar Criminals, Stepping Up 2, Troymotion and Stuntman. Troy is known for his unique free style movement combining acrobatics, breaking, free running, contemporary and house. A self-taught dancer, Troy has been a part of various crews including Warehouse Jacks, Albino Zebras, Supernaturals, ABS Crew, Conscious Souls, and Gadfly Dance Company. Troy is a member of Alias Dance Project, and has been actively choreographing and performing with Alias since 2010 throughout Toronto, North Bay and The Yukon.
Britta B. is a spoken word poet, keynote speaker and arts educator. Originally from Kingston, ON, she now resides in Toronto's Regent Park. Britta has performed on stages across North America and continues to collaborate with community organizations like UNITY Charity, RISE Edutainment, Leave Out Violence Ontario (LOVE) and The Stephen Lewis Foundation. This April, Britta was an Artist-In-Resident for the Spoken Word Residency at the Banff Centre for Arts and Creativity. At the moment, Britta is a featured artist in the AGO's Every. Now. Then: Reframing Nationhood exhibition, running through to March 2018.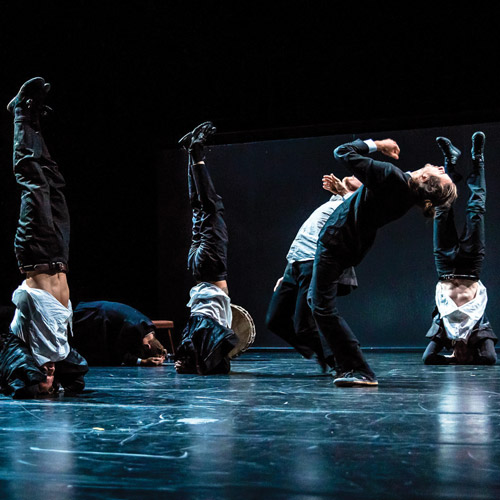 Chorus II
Sasha Kleinplatz (Montreal, Quebec)
Toronto premiere
Chorus II is inspired by Kleinplatz's memory of her grandfather swaying or davening as he recited prayers. It's an exploration of performances of masculinity that evokes both strength and tenderness. The piece suggests a physical, cathartic ritual tinged with nostalgia. This piece was created in residency and through the generous support of Montreal, arts interculturel.
Choreographer: Sasha Kleinplatz
Sasha Kleinplatz is a contemporary dance choreographer living and working in Montreal. Since finishing her B.F.A in contemporary dance at Concordia University, Sasha has presented her work at venues and festivals throughout Canada, and the United States. Her work has appeared in films, installations and multi media projects for companies such as Moment Factory, Royal Caribbean, and Bravo. In 2005, Sasha co-founded (with collaborator Andrew Tay) the company Wants&Needs Danse. Since then the company has curated and produced the popular dance events Piss in the Pool, Involved and Short & Sweet in Montreal, Guelph, Halifax and Oakland, California. In June 2012 the duo choreographed the Cirque du Soleil show Les Frontieres de Pixels and were nominated for a Quebec Notables award in the Arts & Culture category. In 2014 Sasha presented her work Chorus II at Place des Arts in Montreal, Quebec, and in 2015 she was an invited professor at UQAM where she taught the course Spectacle dirigé, and created the new work L'Échauffement.