Parent Series
Curated by Marc Parent
Thursday, August 17, 7:00 pm
Friday, August 18, 9:00 pm
Saturday, August 19, 4:00 pm
Post-Show Chat
Saturday August 19 5:00 pm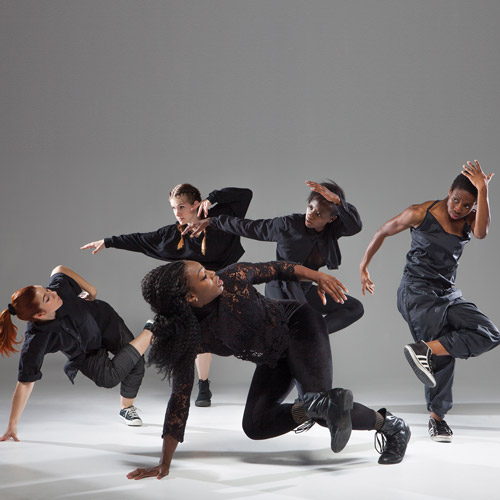 Complexe R
Alexandra Lande/Ebnflōh Dance Company (Montreal, Quebec)
Toronto premiere
Can we resist the excesses of modern life or will they end up permanently scarring our mental health? This is the question choreographer Alexandra 'Spicey' Landé asks in Complexe R. For this creation, Landé assembles a quintet of street dancers to explore the complexes, limits and obsessions of everyday life.
Choreographer/Performer: Alexandra Lande
Lighting Designer: Benoit Larivière
Vibrating to the sounds of Hip Hop, Alexandra 'Spicey' Landé's love for street dance began at a very young age.  For the past ten years, Hip Hop culture has been at the forefront of her work. Her first piece, Retrospek, co-produced by the M.A.I. (Montréal, arts interculturels), was well received by the public and her peers. In 2008 she participated in Vue sur la Relève and was the recipient of Les Entrées en scène Lotto Québec from Bourse Rideauallowing her to go on a tour across Montreal and Ottawa. In 2009, she created Renézance for Tangente, her second full-length piece presented a few times in Montreal. With her new creation Complexe R, she explores human obsession with physical appearance, social status and identity. The show premiered at the MAI in Montreal in November 2015. Spicey has long been concerned with creating a platform for Montreal street dancers to showcase their talent to the greater international dance community. To help with her mission she founded Bust A Move, the biggest street dance competition in Canada, which was presented at la Tohu every year in Montreal. Bust A Move Festival had become a leader in its genre in Canada and 2015 marks it's 10th anniversary. She has been teaching Hip Hop dance for almost 20 years and is one of the most respected street dance choreographers in Canada. With Ebnflōh Dance Company, Spicey has built a language that reflects her vision of dance and she surrounds herself with peers who inspire her.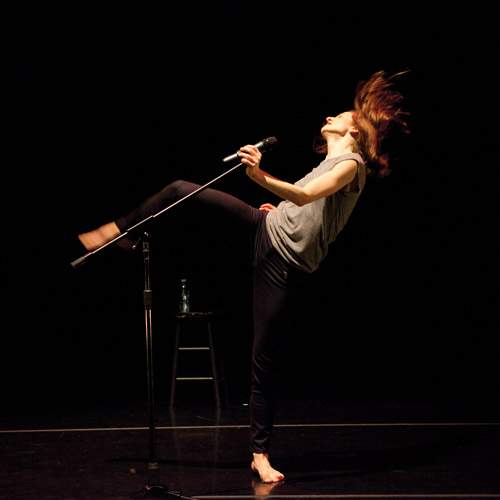 Live From the Flash Pan
Mocean Dance (Halifax, Nova Scotia)
Toronto premiere
Cory Bowles' Live From the Flash Pan is entertaining and challenging. Dancer Rhonda Baker captures the angst of a disillusioned bar singer in this theatrical, provocative piece that is both character study and statement. She is wild, sensual, and on the edge of collapse.
Choreographer: Cory Bowles
Performer: Rhonda Baker
Lighting Designer: Martin Saintonge
Rhonda Liane Baker was born in 1983. She is a Nova Scotia Masterworks Arts Award winner and Dora Award nominated artist living in Halifax, NS. She has performed for Coleman Lemieux & Compagnie, Mocean Dance, Rebecca Lazier, and Gallim Dance since graduating from The School of Toronto Dance Theatre in 2009. Rhonda is an improviser, creator, and performer. Over the 2016/17 season, she spent her creative time developing a project with Geneviève Boulet and Lydia Zimmer through the support of Kinetic Studio and Arts Nova Scotia. Rhonda is thrilled to be performing Live From The Flash Pan at d:mic/fac. She thanks Cory Bowles and Mocean for their ongoing guidance and support of her growing incarnation within this work.
Cory Bowles is a multidisciplinary artist from Nova Scotia. As an actor in a number of film, theatre radio, and television shows, he received a Gemini for his work in TRAILER PARK BOYS, which he serves as a director. As a musician he has scored film, appeared/recorded over a dozen releases and has composed for the Dance companies, SiNS, MOCEAN, and Decidedly Jazz Danceworks (DJD). He serves on the Boards of; Arts Nova Scotia, Screen Nova Scotia, and was Choreographer for CBC KIDS "THE MOBLEES", director of the CBC's STUDIO BLACK!. Most recently, he returned to DJD for an adaptation of Romeo and Juliet. His work for stage and film reflects his fascination to racial, social and cultural structure.
Container
Action at a Distance / Vanessa Goodman (Vancouver, British Columbia)
Toronto premiere
Choreographer/performer Vanessa Goodman says, "Container is a direct reference to my body as a container of identity and an inherited cultural past."
Choreographer/Performer: Vanessa Goodman
Lighting Designer: James Proudfoot
Action at a Distance Dance Society is a Vancouver-based contemporary dance company under the artistic direction of choreographer Vanessa Goodman. The priority of the company is to foster work that reflects the human condition, using dance to decode contemporary experience. Goodman holds a BFA from SFU and was the recipient of the 2013 Iris Garland Emerging Choreographer Award from the Scotiabank Dance Centre. She has been commissioned to create works for the Dancing on the Edge Festival, The Gwaii Trust, Lamon Dance, Modus Operandi, the SFU Dance Program and Vancouver Biennale. Most recently, the company's work has been presented locally with The Chutzpah! Festival, The Scotiabank Dance Centre, The Firehall Arts Centre, Music on Main with Caroline Shaw, The Modulus Festival, PuSh Off, The Shadbolt Centre for the Arts (Burnaby) and Small Stage. Nationally and internationally, the company has been presented by; Northwest New Works (Seattle), Risk/Reward (Portland), Kinetic Studio (Halifax), Connection Dance Works (New Brunswick) and The Canada Dance Festival/Magnetic North Festival (Ottawa). As an interpreter, Goodman has performed works for Dancers Dancing, Wild Excursions Performance, Justine A. Chambers, Jennifer Clarke, dumb instrument dance, the plastic orchid factory, Restless Productions, Mascall Dance, Julia Sasso, Holly Small and Judith Marcuse.