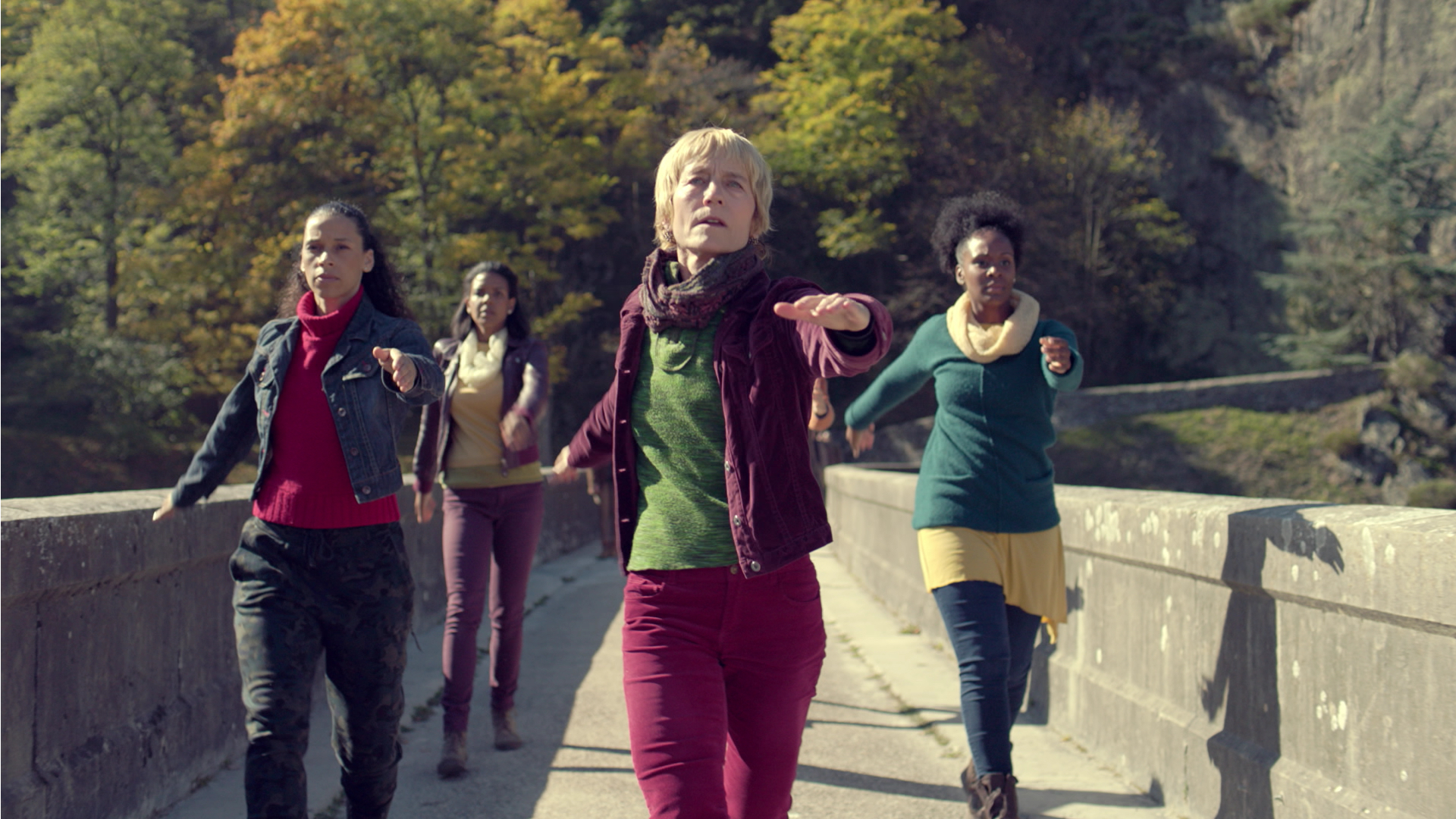 Filmed in the spectacular Gouffre d'enfer in France, Traverse weaves the powerful performances of five women and forty local participants into a tapestry of collective experience, revealing an intersection of dance, movement and voices, a unity of experience in a profound personal yet collective journey. This expedition is set within natural and man-made structures that surround them: an ancient massive wall, stairs etched in stone, a perilous bridge – places they occupy and move through, discovering openings and connection.
Artists:
An award-winning filmmaker with a background in contemporary dance and design, Marlene Millar has been creating dance media projects for 30 years both independently and with Philip Szporer and their company Mouvement Perpétuel established in 2001. Since 2014 Marlene and choreographer Sandy Silva have created The Migration Dance Film Project – the series of films come to life as Marlene  transposes the choreography to the screen, creating a poignant visual language that reveals the intricacies of these migratory stories.
Choreographer Sandy Silva is a pioneer and innovator of a very personal and original form of percussive dance. She has spent the last 30 years performing as a solo artist, teaching and touring around the world. Sandy has chosen artists from different disciplines to collaborate and create an artistic practice that moves beyond traditional body percussion.
Together, choreographer Sandy Silva and filmmaker Marlene Millar use the nuanced dynamics, emotion and precision of percussive dance to shape a powerful cinematographic storyline.
Credits 
Director, Writer, Producer: Marlene Millar
Choreographer, Producer, Writer: Sandy Silva
Co Producer: Anna Alexandre, Dan.Cin.Lab / Stéla Des Arts Des Cines
Composer: Jean Fréchette & Sandy Silva
Vocal arrangement: Jean Fréchette
Lead Performers: Sonia Clarke, Afia Douglas, Hélène Lemay, Kimberly Robin, Sandy Silva
Rehearsal director: Bobby Thompson
Director of Photography: Geoffroy Beauchemin
Editing: Jules de Niverville
Sound design: Félix Boisvert
Drone operator: Jean-Camille Goimard
Awards
BEST ARTS and ENTERTAINMENT AWARD, Yorkton Film Festival CANADA
DANCE MADE IN CANADA AWARD for BEST DANCE FILM Dance Made in Canada, TORONTO
BEST SCREENDANCE AWARD, BEST CINEMATOGRAPHY AWARDS, BEST SOUND AWARD Idaho Screendance Festival, USA
BEST DANCE FILM AWARD Festival Quartiers Danses/Cinémathèque Québécoise Award
Run Time: 13:00