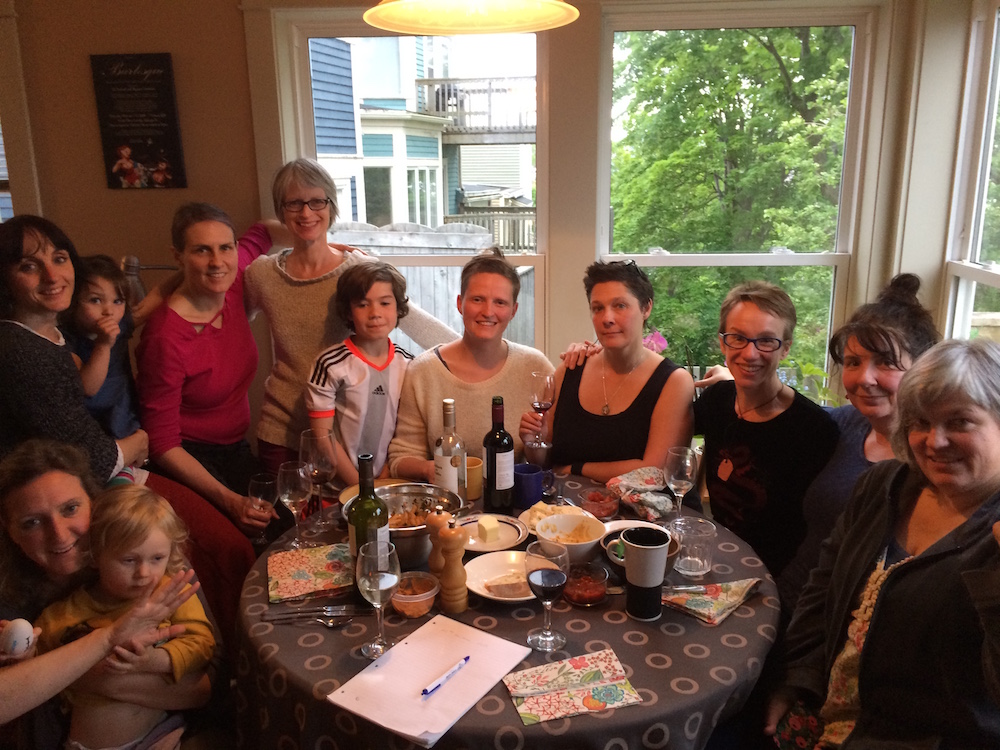 All the way from Newfoundland…
Photo: The pic is of (part of) our amazing new dance community in St. John's.  I'm the one seated to the right and wearing glasses and black sweater. We had a get together in June to catch up and welcome Caroline Niklas-Gordon (seated far left, with dark hair and girl on lap) home for a visit.
Louise Moyes docuDance will present her dance theatre piece Mavis Gallant Stories as part of the What you see is what you get Series on Friday, August 14th at 11:00 p.m. and Sunday, August 16th at 2:00 p.m. 
I live in….St. John's Newfoundland
I live with….Mark (partner) Gabe (son), Lyra (Ridgeback), Franco (Dobe), Geoffrey (cat)
My favorite way to get around….Walk
Favourite spot/thing to do in Toronto…..The Boulevard Café, Harbord St. I used to work there and the people are awesome! Food too.
When people ask what I do I say….A mix of dance, theatre, storytelling and film. Like a live documentary, I call it docu-dance.
My first artistic influence was….My Dad, John Moyes, actor and director and ballroom dancer
The seed for my piece came….Walking in hills in France and getting lost both literally and in thoughts of my love for the stories of Mavis Gallant
Before I perform I….Stretch, vocalize, pee a lot. Take rescue remedy sometimes, sometimes a sip of whisky.
To relax I…Sing
When I'm not dancing/choreographing…..I'm with my family or writing something.
If I wasn't an artist I would be….A social geographer
Few people know…When you live in St. John's, there are few secrets. Mavis Gallant's characters on the other hand have lots of them.