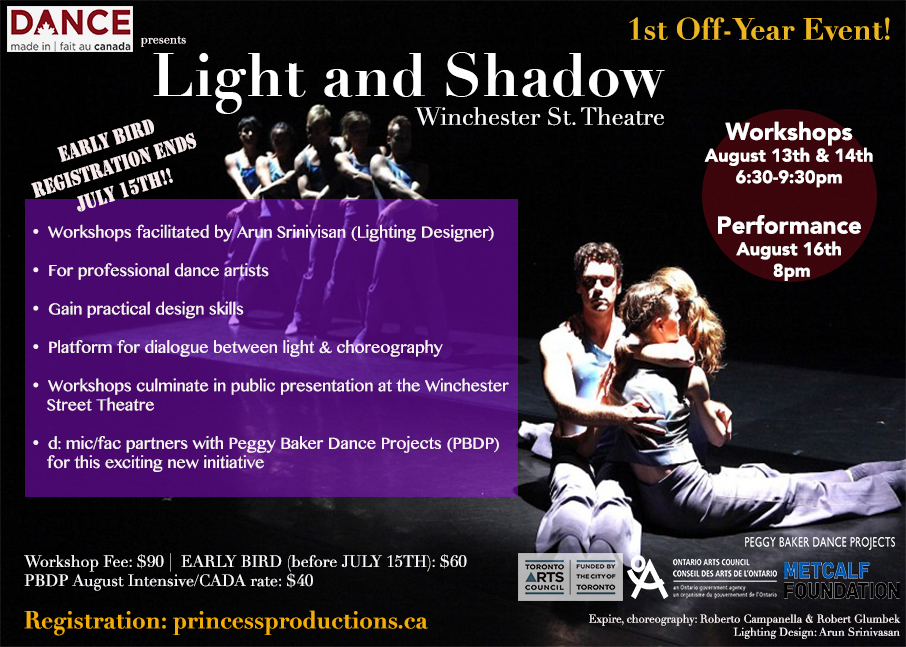 d: mic/fac presents Light & Shadow Early Bird Registration
**Early Bird Registration available until July 15th!**
Light and Shadow is a new initiative and professional development opportunity presented by dance: made in canada / fait au canada (d: mic/fac). Two workshops, running August 13th and 14th, will culminate in a public performance on August 16th at 8pm, at the Winchester Street Theatre.
This is our first off-year event, and we are very excited about it! Light and Shadow is a tremendous hands-on learning opportunity for all levels of dance and theatre artists, designers, and professionals who wish to become better acquainted with the specifics of design for dance.

Join us and help make this series a great success, so that we can continue to develop d:mic/fac's programming in the coming seasons. More details, as well as the registration portal, can be found HERE.

EARLY BIRD registration at the discounted rate of $60, is available until JULY 15TH!