JOIN US FOR A POST SHOW CHAT:
Wednesday, August 14 at 8:00 p.m.
with Louise Lecavalier
Facilitated by Kathleen Smith*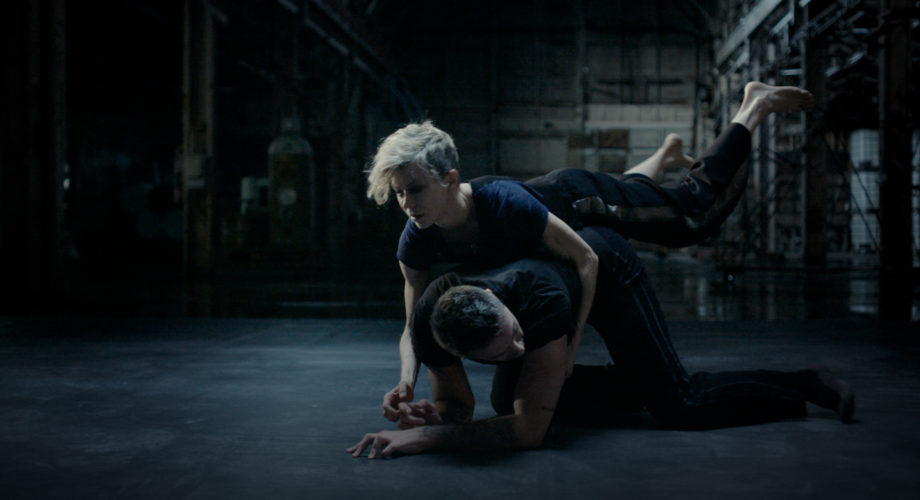 Louise Lecavalier - In Motion
Louise Lecavalier
Montréal, Quebec
The feature-length documentary Louise Lecavalier – In Motion is a visually stunning exploration of the life and work of acclaimed Canadian dancer and choreographerLouise Lecavalier. The film tells the inspiring story of an irrepressible artist who, working with choreographer Édouard Lock, revolutionized contemporary dance in the 1980s. Today, at 58, Lecavalier enjoys a successful solo career on the international stage. She is a true icon of dance, a unique creator whose art transcends the limitations of the human body. Spectacular dance sequences, original scores and exclusive interviews are combined to create an intimate and touching portrait of this passionate artist, driven by her quest for perfect movement.
Writer/Director: Raymond St-Jean
Choreographers: Louise Lecavalier, Édouard Locknigel Charnock
Producer: Michel Ouellette
Executive Producer: Marie-Odile Demay
Dancers: Louise Lecavalier, Robert Abubo, Patrick Lamothekeir Knight, Frédéric Tavernini
Director of Photography: Jean-François Lord
Editor: Philippe Ralet
Sound Designers: Benoit Dame, Catherine Van Der Donckt
Music: Rachaël Reed, L'Oreille, Mercan Dede, Antoine Berthiaume
Art Designers: Linda Brunelle, Patricia Christie
Headshot by: Filmtopian International and Jean-François Lord
Louise Lecavalier worked with Édouard Lock and La La La Human Steps from 1981 to1999, a period of exceptional intensity studded with dance productions that became mythical –Oranges, Businessman in the Process of Becoming an Angel, Human Sex,New Demons, Infante, 2, andSalt–, along with spectacular collaborations with the likes of David Bowie and Frank Zappa. Her extreme dance, filled with a fiery energy, caught the imagination of a whole generation. Since 2016, when she founded her own company, Fou Glorieux, she has engaged in movement research that is emblematic of her career, emphasizing the surpassing of limits, risk-taking, and unstinting effort. Louise has used her artistic freedom to explore dance in partnerships with iconoclastic choreographers Tedd Robinson, Benoît Lachambre, Crystal Pite, Nigel Charnock, Fabien Prioville, Deborah Dunn, and Jakop Ahlbom, as well as artists in other disciplines such as musicians Mercan Dede, Hahn Rowe, Antoine Berthiaume, visual artist Laurent Goldring and lighting designer Alain Lortie. At the end of 2012, she created her first choreography,So Blue, which has toured internationally.The world premiere of her new work,Battleground, took place in Germany inFebruary 2016.
Louise is an Officer of the Order of Canada, is the first Canadian to have received a Bessie Award (New York) and the first winner of the Prix de la danse de Montréal. Among her many distinctions, in March 2014, she won two prestigious awards almost back to back: the 29th Grand Prix du Conseil des arts de Montréal and the Governor General Performing Arts Award (GGPAA) for lifetime artistic achievement. Louise Lecavalier won the 2017 Denise-Pelletier Award, the most prestigious distinction given by the Quebec government in the field of performing arts. In December 2017, she received an honorary doctorate from the University of Quebec in Montreal.
Louise Lecavalier - In Motion Trailer
About the Moderator
Kathleen Smith is a Toronto-based writer and filmmaker. She was editor at The Dance Current, Canada's National Dance Magazine, until 2014 and writes regularly about dance, performance and the arts for NOW Weekly, Dance International, Tanz and other online and print publications.
In 1992, Smith co-founded the Moving Pictures Festival of Dance on Film and Video, which she directed and programmed until 2006. She has programmed film, video and installation work for Harbourfront, Tangente Danse, Pleasure Dome, Cinémathèque québécoise, Images Festival, High Performance Rodeo, Brighton Festival, in addition to producing and directing award winning short films and documentaries.
Currently, Smith is developing film and book projects and launching the initiative Dance + Words, which aims to expand and encourage discourse within and about the Canadian dance landscape.