JOIN US FOR A POST SHOW CHAT:
Saturday August 17, 8:00 p.m.
with Emily Gualtieri, David Albert-Toth, Sashar Zarif and Karine Ledoyen
Facilitated by Louis Laberge-Côté*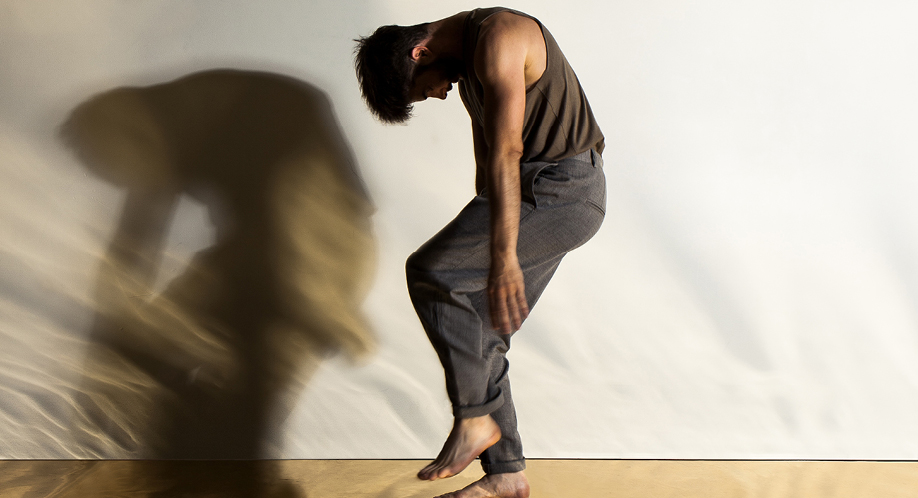 GLORIOUS FRAGILITY (extract)
Danse K par K / Karine Ledoyen
Montréal, Quebec
Toronto Premiere
Content Warnings: Haze
Karine Ledoyen met with close to 20 professional dancers to collect their testimonies in the form of interviews. The interviews represented the gateway to this new creation. They became the narrative thread in resonance with the written and improvised dance performed by the dancers on stage. The relation between the recorded testimonies, the performative treatment of the video and the deployment of the dancers on stage organizes a plural dramaturgy. A game of comings and goings between reality and fiction that echoes far beyond dance.
Glorious Fragility is a success. The four dancers-performers are dazzling, sharing friendship, laughter and complicity, but also uncertainties and exhaustion. A psychological piece, Karine Ledoyen uses simplicity and poetry to treat dance in the most human way possible.

– Céline Stoquart, Sors-tu.ca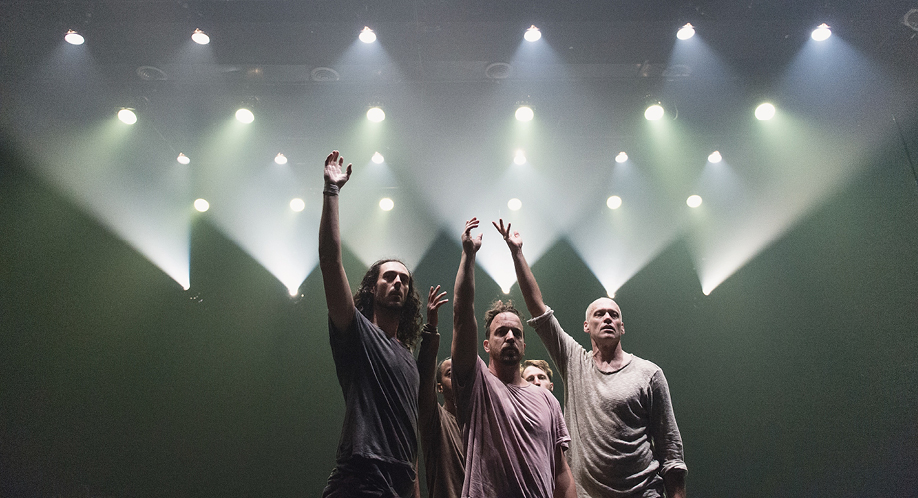 Parts+Labour_Danse (David Albert-Toth & Emily Gualtieri)
Montréal, Quebec
Toronto Premiere
Content Warnings: Profanity, haze, gunshots, loud music.
Evoking political philosopher Thomas Hobbes' reasoning that human nature consists of little more than the vacillation between our desire for power and the power of fear, LA VIE ATTEND explores secrets and strategy in a group of performers. They are teammates, instigators and witnesses.
An illusory work that itself vacillates between dance and theatre, LA VIE ATTEND transposes Hobbes' social contract theory to the theatre, and thus to the contract into which the contemporary audience member and the interpreter enter together, hope and fear in hand.
Choreographers David Albert-Toth and Emily Gualtieri of Parts+Labour_Danse open the season with panache. From power, to fear, through waiting and silence, the viewer is lulled into a succession of choreographic, theatrical and architectural paintings, alternating between laughter, interrogation and hypnosis.

– Mélanie Boisliveau, DF DANSE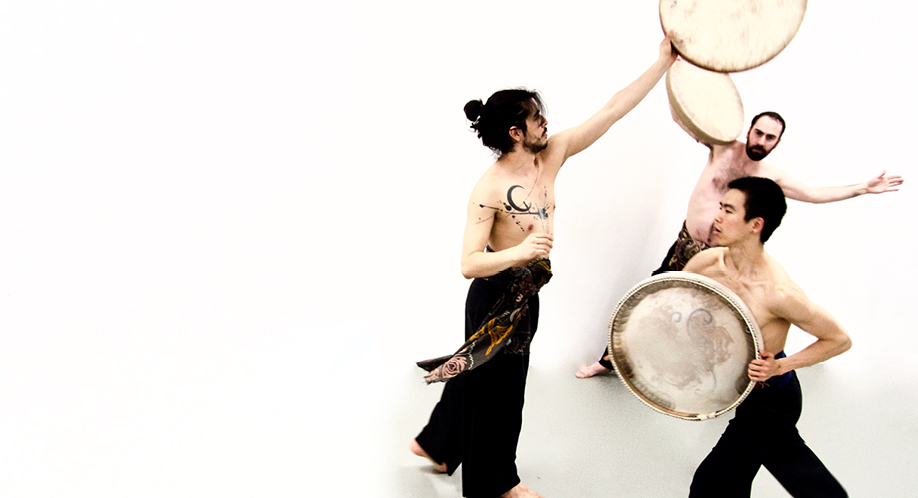 Sashar Zarif
Thornhill, Ontario
World Premiere
Content Warnings: Haze
This all male quartet of sound and movement is a ritual that explores the choice between accepting fate or creating destiny.This dance work is in the contemporary style of Maugham that is informed by the Sufi and Shamanic transformation ritual.
Attesting to the sacredness of stage with the witnessing audience the performers embody the space and time in raptures of interrupted stillness and silence.
"Forfeit the call of stillness with glides of movement.
Claim serenity in the midst of passing and possessing.
This journey of outlandish fragmented assumption is
refreshing in its uncertainty, offering the possibilities of magic."
Zarif managed to take even those inexpert in his cultural heritage on a journey of discovery; spiritual and transcendent.

– Michael Crabb, Dance International
Choreographer/Composer/Dance Artist: Sashar Zarif
Dance Artists: Mateo Galindo Torres, Luke Garwood, Yiming Cai, Sebastian Oreamuno
Lighting Designer: Arun Srinivasan
Costume Designer: Sashar Zarif
Sashar's Headshot by Sashar Zarif
Sashar Zarif is a multi-disciplinary artist, educator and researcher whose practice invites a convergence of creative and cultural perspectives, steeped in traditional, ritualistic, and contemporary dance and music of Western/Central Asia. He has toured in over 36 countries promoting cultural dialogue through fieldwork, residencies, performances, and creative collaborations. Zarif holds a Master of Dance Degree from York University, where he also directed courses in dance and performance studies from 2004 to 2012. He has been awarded the title of Master of Dance, as an honorary faculty member of Uzbekistan State Institute of Choreography. In 2012, Zarif received the Queen Elizabeth II Diamond Jubilee Medal.
Interview with Sashar Zarif by Grace Wells-Smith
Grace Wells-Smith: Where does the title come from?
Sashar Zarif: It comes from my recent research and works comparing choreography and improvisation. My work focusing on rituals has made me wonder about pure improvisation, structured improvisation and composed or choreographed experiences with story-telling, music and dance. The concept of destiny and kismet parallels this concept.
GWS: What interests you about fate and destiny?
SZ: Fate, as far as I understand, portraits a pre-determined reality. Of course, in many doctrines they might argue that, but as far as the functionality of it among the human is, is to believe in the pre-determined reality. This way of looking at it will take the "responsibility" off our shoulders.
On the other hand, destiny is there to be made. We make our destiny, so we are responsible for every choice we make in regard to the outcome. Karma you might want to say.
I do believe in both concepts if fate would refer to the probability of random things to happen, and density is the play.
This all male quartet of sound and movement is a ritual that explores the choice between accepting fate or creating destiny. This dance work is in the contemporary style of Maugham that is informed by the Sufi and Shamanic transformation ritual.
Attesting to the sacredness of stage with the witnessing audience the performers embody the space and time in raptures of interrupted stillness and silence.
GWS: Can you tell me about the style of Maugham?
SZ: Mugham today is referred to as a sibling of the astern modal musical practice, an ancient art form adopted by different cultures spanning from North Africa to North East Asia and Northern India. Historically, Mugham was, in its essence, the expression and realization practice of Sufi school of thought that integrated the trio of arts consisting of poetry, music and dance.
Mugham produced poetry to convey thought. It used music to internalize it emotionally, and employed dance to manifest it. Throughout time, however, this compact trio slowly eroded into its constituent parts. It no longer functioned as a collective. Mugham lost its cohesion, but loosely maintained its ties. Poetry continued to evolve on its own, developing new techniques and methods. Music grew separately but made passing references to the poetry.
And as for dance, it practically disappeared. Dance remained little more than a mirage in Sufi practices that employed Mugham or in some traditional folk dances that tried to resurrect it in symbolic gestures rather than in genuine movements. I aimed to reconstruct this lost classical dance tradition by reintroducing dance into the poetic and musical practices of Mugham and tying it to its philosophical foundation.
Mugham inhabits deep inside the earth, and far into the endless universe. Mughamists express and embody life by walking on the vulnerable edge of emotions. Stemming from Sufi literature and poetry, musical structure, calligraphy, folk and ritualistic movements, I developed the
"Dance of Mugham" form. The elements of its integration were of thought (poetry), rhythm (nature), feeling and sensing (music), and practice/action (dance).
Dance of Mugham is a style of performance in which integrated solo works can exist (incorporating dance, music and poetry) or in collaboration with singers and musicians. It also emphasizes more intangible elements that are between the conscious and the unconscious mind.
Dance of Mugham is simultaneously a revived historical art and an evolving contemporary form.
With over twelve years of research and reconstruction, my goal was and is to reinstate the nearly lost element of dance back into the ancient form of Mugham. The word Mugham is drawn from the Arabic word Maqam meaning "place." I have called it the "Dance of Mugham" because it is where the physical and the sensual senses do not overshadow the spirit and/or its echoes – human moods.
I have developed a base syntax, vocabulary and structure out of which to work in Dance of Mugham. Using this material, I can both co-exist and function in the Dance of Mugham through sequences of movements that embody the content in a specific context.
My process is to bring further depth and understanding into my performance practice. The personal and body memories invested in me, from life and the lives of my forbears, have given birth to guidelines for performance in which this physical practice and the sensual senses do not over shadow the spirit and its echoes in the human mood. As the dance form continually evolves, I work towards the goal of breaking down barriers through greater cross-cultural understanding.
Use a small part of yourself and your energy on life and the bigger part on your spiritual development. Beyond our physicality and our five senses, our spirit can be accessed through a generous study of our ongoing process of experience. Where the word "performing" is usually applied to it, Dance of Mugham can be more accurately described as "experience."
The educational part of this dance is mainly oral through memories and stories. There is a need to personally connect to memories and/or experiences in the story/the content. Even the technique is thought through using examples from daily life.
My practice looks into memory in order to transform the idea of the time into a continuum rather than a dimensional concept, which results into the concepts of past, present and future. By approaching the concept of time as a continuum one will not stuck in the past or preoccupied by the present or lost in the future.
It is essential to approach memory as a wrapped gift, acknowledge the wrapping, absorb the box and/or the exterior, but enjoy and use the content the essence.
As much as I might resist the concept of a nomadic existence, life itself is a nomadic process. If one believes in the concept of reincarnation or even in the scientific concept of composition and decomposition, this very process has a nomadic nature and is nomadic. Problems occur when this nomadic process is interrupted. When a tradition is intact or when a tradition is ignored in both cases the nomadic nature of it is interrupted.
Life has to be like a running river always flowing always in motion, moving forward.
Here I would like to share with you one of my poems:
human dancing
the peace i am searching for is in me, i know
it's closer to me than i think, i know
the flesh i have taken for granted is full of stories
stories that could only merely echo in words
could only reflect a trace in images
could only trigger emotions
the mind
this sight
my forbidden emotions in forgotten commotion
are shadowing my stories, the tales with no past and future
the epic of now, right in every pulse
and yet the only audience is my breath
ears has been anticipating for the wind to bring us the news
the same way that we have been raising our arms to the sky to find god
lost as ever, we keep the hope and look at the endless universe out there
and keep missing the limitless multiverse within us
we need to listen to our breath
GWS: Why is the cast all male?
SZ: Why not? Historically, in many places the profession of a dancer for male was controversial and challenging. Of course, at the same time for a woman it also was not an acceptable social status.
So, I am sensitive to all that, to the history of woman in dance and the history of man in dance with all their challenges. Of course, I acknowledge the challenges and benefits that humans face in life based on the different conditions that we have been born into and living in but at the same time, I believe unless and until we humans stop categorizing, prioritizing and exorcizing different elements and members of this world we live in, including humans and their condition, we will be suffering from social dysfunctionalities from one end or the other. Hope this make sense to you.
For many years I worked in Manila with a female cast, and few years ago I decided to experience the all-male cast. This work is a continuation of that phase. However, since last year I have brought both experiences together in studio and for the upcoming year I will have a cast of humans dancing.
*About the Moderator:
Louis Laberge-Côté is a Toronto-based dancer, choreographer, teacher, and rehearsal director. An acclaimed performer, he has danced nationally and internationally with over thirty companies and has been a full-time member of Toronto Dance Theatre (1999-2007) and the Kevin O'Day Ballett Nationaltheater Mannheim (2009-2011). His work has garnered him a Dora Mavor Moore Award for Outstanding Choreography, as well as ten other individual and ensemble nominations for Performance or Choreography. He has been recently appointed Assistant Professor of Dance at Ryerson University and holds an MFA in Creative Practice from the University of Plymouth (UK).