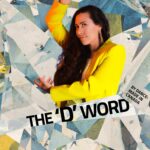 On Episode One of Season 3 of The 'D' Word, Aria Evans discusses curiosity with Perry Zurn and Dani S. Bassett, authors of Curious Minds: The Power of Connection and what their research can mean for dance artists.
Dani S. Bassett is a professor at the University of Pennsylvania, with appointments in the departments of bioengineering, electrical and systems engineering, physics and astronomy, neurology and psychiatry.
Perry Zurn is an associate professor in American University's Department of Philosophy and Religion and affiliate faculty in the Department of Critical Race, Gender, and Culture Studies.