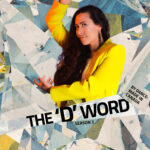 This season we join host Aria Evans, the artistic director of Political Movement, to investigate the relationship between dance and activism. We are jumping into the work of three dance artists who through performance, choreography and production, are driving social justice.
Through conversations about representation, caregiving and reclamation, we spotlight the issues that these artists care about to answer the question:
How is our sector leading social change?
Join us for Season 2 of The 'D' Word, launching August 13th, wherever you get your podcasts.